Minnesota's Own Beer Delivery. Fresh Local Craft
Thank you for all your hard work - growing and developing the Twin Cities!
As a small token of our appreciation - please enjoy some...
FREE BEER!
To enjoy
$20 Off
your first order, simply enter the code
"ChamberSpecial"
at the checkout.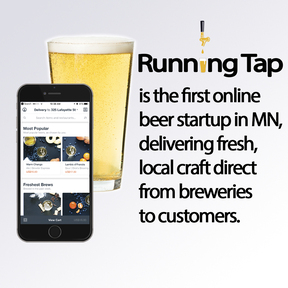 Running Tap is a Minneapolis-based startup that delivers beers directly from taprooms to customers.
Cut out the middle-man

No mark-ups on tap room prices

14+ award-winning local breweries

50+ fresh, craft beers

Complimentary beer tastings

Beer catering service
NOW DELIVERING FROM THESE BREWERIES
Northbound Smokehouse Brew Pub | Town Hall Brewery | Black Stack Brewing Pryes Brewing | 56 Brewing | Tin Whiskers | Great Waters | Day Block | Free House Inbound Brewing | Broken Clock | Clockwerks | Lake Monster Brewing